The Three Things We Really Need This Year for a Clean Home
A new decade, means a new year, and with a new year comes a fresh start. New year's resolutions abound and many are making plans and setting goals for what they want to accomplish in 2020. A conversation that seems to be ongoing in this day and age is the topic of simplicity and what it looks like, practically speaking. I'm not talking about the extremists with one pair of shoes, and a single fork, knife, and spoon in their kitchen drawer. I'm referring to the woman or mother who is tired of all the waste, clutter, and stress that comes with an unkempt home.
Marie Kondo ruled 2019 with her Konmari method and millions of people flooded Goodwill and Salvation Army with donations, namely women who were just fed up with clutter. That process can take days, and setting aside time for all that organizing is tough. Marie Kondo herself is quoted with saying, "The objective of cleaning is not just to clean, but to feel happiness living with that environment." So, what do you do when you just need to take little steps toward simplicity and creating that happiness in your environment? Start with these three things to enhance the atmosphere in your home.
---
1. A cleaning calendar.
These little calendars are all over Pinterest and can take the emotional and mental labor out of having to ask, "What needs cleaning next?" The simplest one I have found is this one from Of Life and Lisa. Breaking the tasks down by daily, weekly, and monthly helps to make them more attainable and printing this out can also help others in the house to take initiative.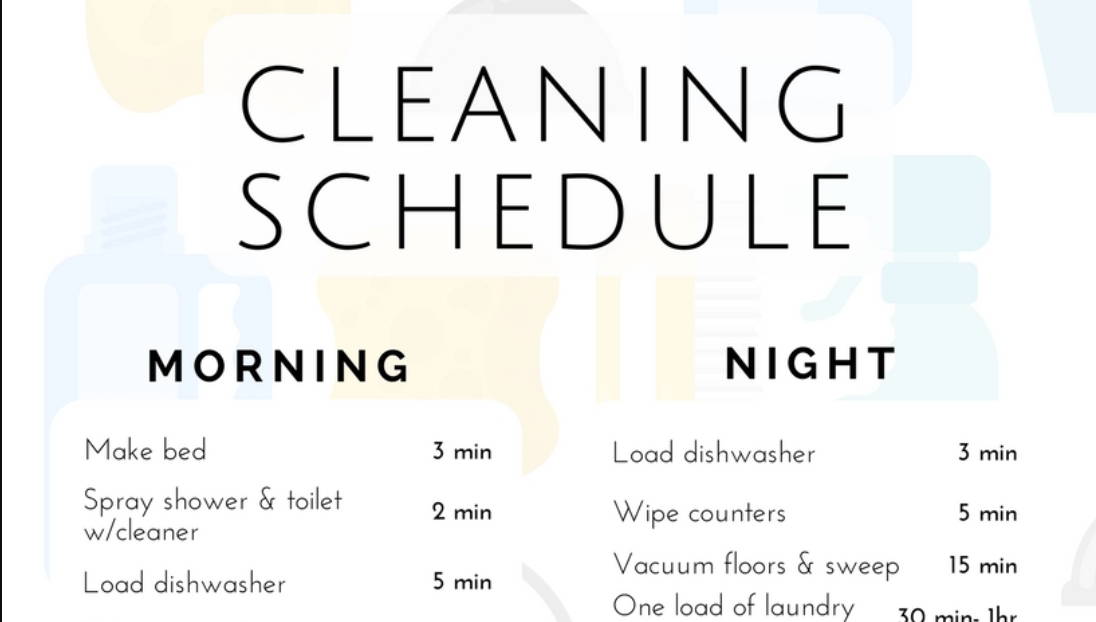 2. Mood boosting fragrance.
Essential oils have been used for centuries for their aromatherapeutic effects and 2020 is no different. All you need is an outlet, a water diffuser, some water, and your favorite scents. Some of the benefits of using essentials are the ability to customize the strength of the fragrance to suit your needs. You can use more or less oil depending on your preference, or just run the water diffuser to add a little humidity to the air, especially in the drier months of winter. Another benefit is that a bottle of essential oil will last for weeks, sometimes even months because a little goes a LONG way. Greenleaf essentials contain no diluents or solvents and are 100% pure Essential Oils. They are also great for blending and coming up with your own fragrant "recipes". Some of the best blends to help refresh and energize for the new year are:
3. Let it go.
The last thing you need for a clean home is maybe not so obvious, but so important. It's the art of letting go. In 2020, let go of perfection, comparison, and unrealistic expectations. I find it helpful to set screen time limits on social media apps, to curb the amount of comparison I'm exposed to. I also like to keep a large box by the front door for things I'm donating. This is a small, simple way to slowly declutter. When it gets full, load it up and take it to your nearest Good Will or Salvation army. A clear mind and home is something that's going to be coveted in 2020 as people constantly try to do more, have more, and be more.
---
The race to make resolutions can also be a way to to let pressure creep in and set yourself up for failure. Simplicity starts with setting simple, achievable goals, taking into account what you alone can handle and are capable of. Every person is different, and different things work for different people (I'm looking at you Marie Kondo fanatic). Your efforts in taking care of your family are enough, and most importantly YOU are enough.

Do you have any tips to maintain a clean home? We'd love to hear them! Share it with us on social @greenleafgifts.