The Road to Restavek Freedom
We went to Haiti in 2000. It was a strange trip- nothing altruistic at all. We went to Haiti to meet our sailboat because we were sailing to Cuba. Our boat captain knows I don't like to do long crossings, so he said to meet him in Haiti on a little island called Ile a Vache. It was off the southern coast of Haiti. We didn't think anything about it because we'd been around in the Caribbean. It took us about nine and a half hours to go about 180 miles then, and it was incredible. Along the way, my eyes were opened and so were my husband's. Honestly, I never wanted to go back. It was difficult to see – you know a lot of places have pockets of poverty. Haiti's poverty is pretty unrelenting. It's tough. Beautiful country, though. Absolutely beautiful country, and people don't realize that Haiti's very mountainous. So, you have the beautiful mountains and the ocean, sand, palm trees. You have everything there that any beautiful coastal place has. It's just very under-developed.
After we got on our boat and sailed away, my husband said to me, "You know, it wouldn't take a lot to do something very significant there." And I said, "You go ahead." I'm more the dreamer, but he saw something there I didn't see. I think I was just a little nervous at the time and feeling uncomfortable- very out of my element. He's an adventurer. So, he asked my daughter and they went back to the southern area where we first met our sailboat and started meeting people in that community. Then they came home talking about their trip and asked me if I'd come back with them. I said, "Okay."
We would talk to the young people and ask why they weren't working. They'd say they couldn't get jobs. When we asked what they needed to get a job, they said computer skills and English. I thought, "Well, I do have an education background. Maybe I can teach English." So that's how we started- working with an English school.
I started researching it online because no one wanted to talk about it and saw that it was being called a serious human rights issue.
— Joan Conn
Then we realized there was this issue of Restavek in Haiti in 2004. I started researching it online because no one wanted to talk about it and saw that it was being called a serious human rights issue. I read about it, all the issues involved with it, and the children. There was a Minnesota lawyer's report that talked about all the issues that these children have, so I started looking for organizations working on this issue- thinking that we could just support someone already working on this issue. We met with a couple of people who had that as part of their mission and just didn't feel comfortable going down the road with some of those organizations. It was about that time I felt that God was saying, "Stop looking. I'm calling you to this."
It was also that time that I was saying, "No. There's no way. I can't do this." But finally, I thought, we could at least put a few kids in school. Find some kids who were living as Restavek and see if we could put them in school. We had no idea what we were doing, and I think that's where God comes in. He begins to direct your path a little more. You learn through your mistakes, and we learned a lot those first few years. But we didn't give up.
That's the main thing. When you really believe in something, and you really believe that God's called you to it, go for it. Don't sit around and think of the reasons why not, because I believe if God's really calling you to something, he'll help provide the way. -Joan Conn
---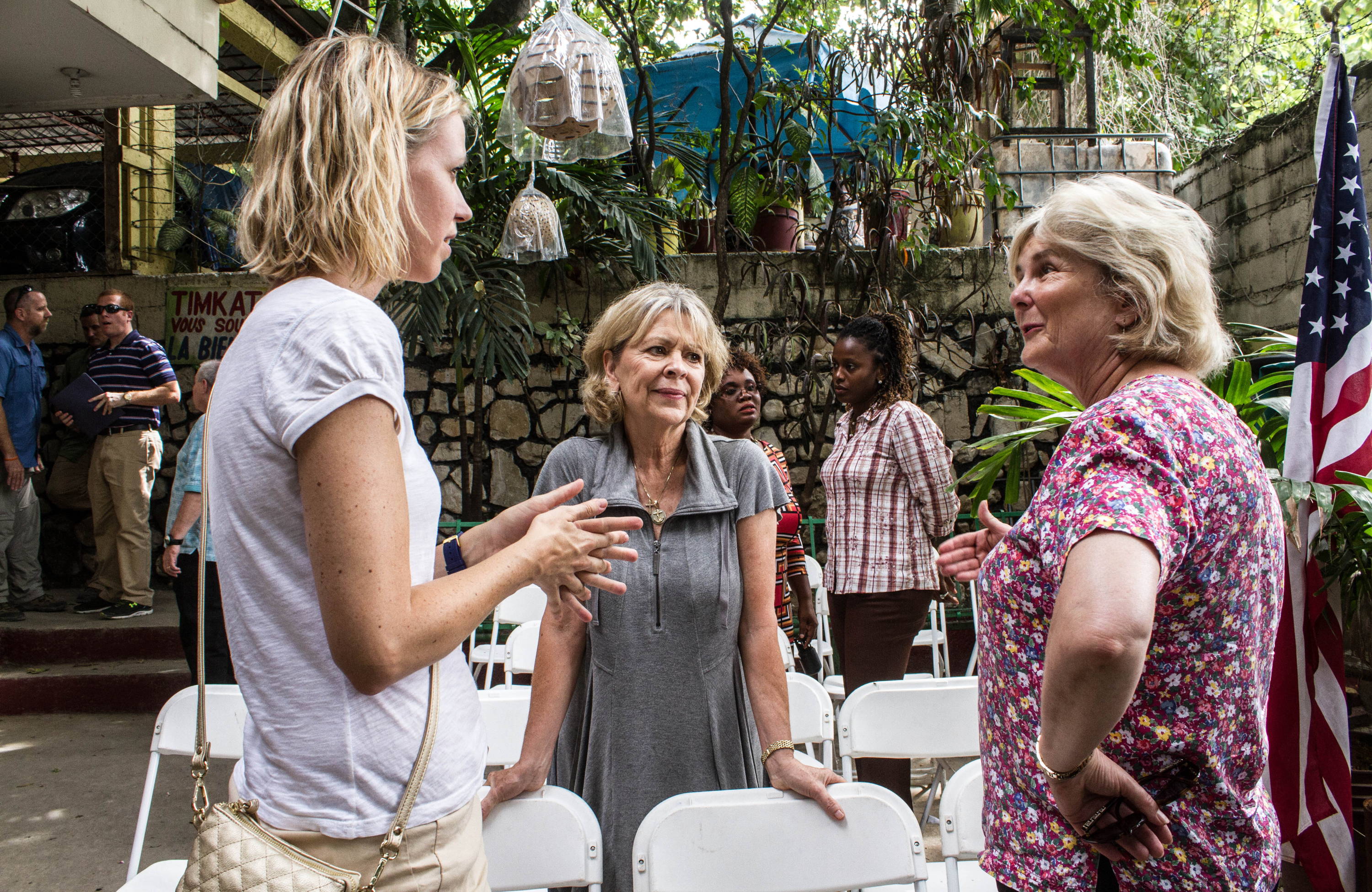 Meet Joan Conn, Executive Director for Restavek Freedom, a non-profit organization with the mission to end child slavery in Haiti in our lifetime. In June, Restavek Freedom became one of our first two partners in Greenleaf Cares, an initiative through which a portion of our sales are donated to organizations leading the fight to end human trafficking.
We sat down with Joan to hear first-hand how she was called to Haiti, and how Restavek Freedom is creating cultural change by setting captives free.
What was the turning point for you, when you had peace about your calling to intervene for Restaveks in Haiti?
I remember there was a day when we had been out, and we had interviewed all these children. Forty-something children in one day, and you hear their stories. And their stories are difficult to hear. They're heart-wrenching stories, and at the end of the day, we were just wasted. It was like, I can't hear another story like this! And my daughter was with me, and I remember saying, "Who do you think you are? How do you think that you're really going to have an impact on this issue?" And I remember that night, going to bed, my daughter waking up, and she was just moaning, crying, and balled up in a little ball in her bed. And she said, "Mom, I'm hurting so bad! Do something!" And I thought, "What am I going to do?" You know, it's the middle of the night. You can't get a doctor to come to your room in Haiti. And I felt like God was just saying, "Pray for her." So I laid my hands on her, and I just said a simple prayer. Just, "God, please, heal my child. Take away this pain." And she instantly relaxed. I could feel it because I had my hand on her, and she fell asleep.
At that point, I did not hear an audible voice, but in my spirit, I just heard this- it was as if God was saying to me, "Don't worry. You are not alone in this because I am here with you." And here I was ready to give up, and just say, "I can't do this," and I believe that God showed up that night in that room and said, "I'm here with you. You don't have to do this alone." And it was a powerful turning moment for me in that whole experience.
How has community, and seeing that you don't have to do this work alone impacted you and Restavek Freedom as an organization?
We have people come all the time and comment on the amazing staff we have in Haiti. We don't hire outside of Haiti for Haiti. We have one expat that works for us, and then we have forty Haitian employees there, and we try to work within the cultural context of Haiti. Our Haitian staff come up with a lot of the ideas. We want them to believe that it is someone that looks like them, talks like them, and is a part of their culture who cares about their situation and believes in them. We don't want them to think it's going to take a foreigner to make a difference in their life- and that they have to leave Haiti for their lives to be good. I think it's important for them to believe they have a future there.
 It's been fun. It's been hugely challenging and heartbreaking, but then there's a side of it too that brings so much joy. I've been given so much more than I've given, so Haiti's given back to me tenfold.
It's great to hear that your Haitian team members are so giving. How do they impact you, and how do you love them well as a leader?
Just by listening- caring about their families and caring about them. When it rains, driving them home from work so they don't have to take a tap tap (the public transportation in Haiti.) Or you know, bringing lunch in. But I think training, too, is so important. Training them to do things well, training them in technology, and giving them opportunities that they wouldn't have otherwise because so often in Haiti when a person is hired, they're hired for a specific job, and they're not trained on multiple tasks.
I believe that when you care about people, you're interested in their whole family. Everything that impacts them in their lives, and not just that person because their lives are so much bigger than just them.
What is your greatest passion?
I would say my family is probably my greatest passion. I love being with my family. I love being with my grandchildren, and if you ever ask me who I want to spend time with, it would be my kids and my husband. I'm passionate about my work as well. I love what I do. I can't imagine myself doing anything different, but I really love my family, and I love my friends, and I love people.
How do you define success for your organization?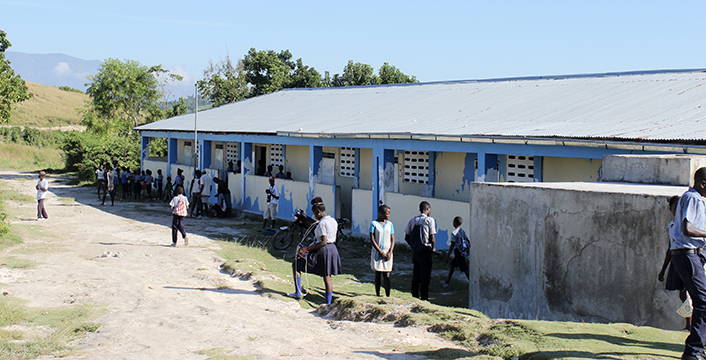 When I see these kids that we've worked with for so long thriving, and having hope for their futures, that is a mark of success for our organization. When you see people who have changed their mind toward this issue of Restavek, that's a mark of success for us, too. Watching our team grow, thrive, and develop as professionals in their field [is success.] Seeing the girls who we work with who live in our transitional home there have success in their own lives and succeed in academic work. One of our girls even was invited to speak at the United Nations in Geneva, Switzerland. Just to see her and the poise she had, sitting up there and talking to people. The way she handled herself, I was just so proud of her. To me, those are markers of success. I think true success will be when we can really end this system.
We have 1,000 children in our program right now, but there are so many kids who need intervention. We have a long way to go, but if I didn't believe we were making progress, I wouldn't be throwing my life at it.
We have 1,000 children in our program right now, but there are so many kids who need intervention. We have a long way to go, but if I didn't believe we were making progress, I wouldn't be throwing my life at it.
— Joan Conn

How can anyone inspired by your work get involved with Restavek Freedom's work in Haiti?
You can go to https://restavekfreedom.org/ and read more about the issue to become educated on it.
You can support Restavek Freedom directly through our site, or through buying products from Greenleaf!